What Jesus Did! – 'Who Sets the Agenda?' – Luke 5:14-16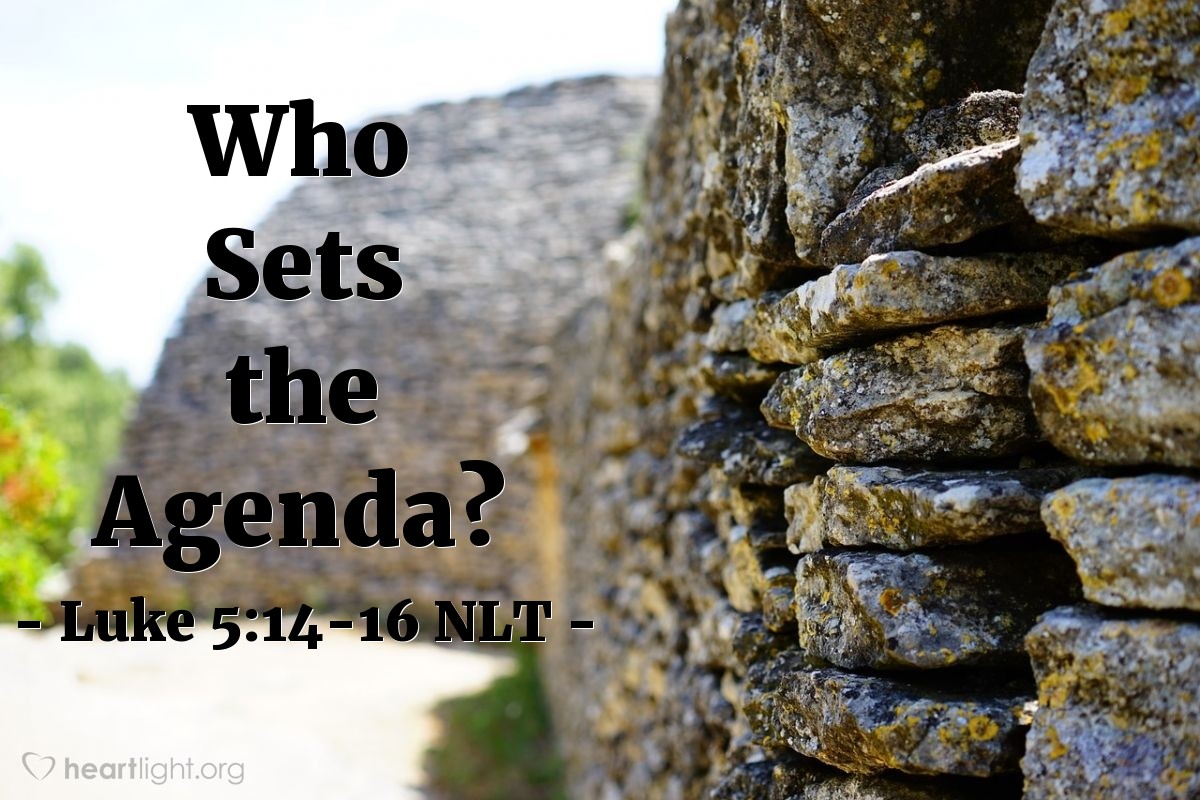 Then Jesus instructed [the man who was healed of leprosy] not to tell anyone what had happened. He said, "Go to the priest and let him examine you. Take along the offering required in the law of Moses for those who have been healed of leprosy. This will be a public testimony that you have been cleansed."
But despite Jesus' instructions, the report of his power spread even faster, and vast crowds came to hear him preach and to be healed of their diseases. But Jesus often withdrew to the wilderness for prayer.
Key Thought
Jesus did not want to become a miracle sideshow. His purpose in healing the leper was to love and bless him, not to attract more folks just looking to see something amazing. So, as the crowds grew because they heard of his great and powerful deeds, Jesus withdrew. However, the purpose of Jesus' withdrawal wasn't to hide and stay away from people. It was a time to be alone with the Father and renew his sense of mission and purpose. Jesus knew it was crucial not to let the crowd determine the direction of his ministry. He came to live among us to do the work of God. That work was centered on making hope, freedom, healing, life, and salvation possible for all of us. That mission was going to be accomplished in a lasting way only if his Father set the agenda. Jesus withdrew to be alone with the Father and to have the Father, not the crowds, remain in control of his ministry! His communing with the Father is a powerful example for all of us, especially church and ministry leaders!
Today's Prayer
Forgive me, dear Father, for I have often sought my way based on my "wisdom" and my desires before I have sought your guidance. I am not sure if that is the sin of arrogance or of willful stupidity, but I want to confess to you that I know that I make a mess of things when I go my own way. Give my heart a deeper yearning to be in your presence. Draw my heart to you, O God, and not only cleanse me, but also please give me a holy hunger for you. In Jesus' name, I pray. Amen.
Related Scripture Readings
---
Ⓒ 1996-2023 Heartlight, Inc. This material may not be reproduced in part or whole for commercial use without written consent. What Jesus Did! is written by Phil Ware and is available in book form. Scripture quotations are taken from the Holy Bible, New Living Translation, copyright ©1996, 2004, 2007, 2013, 2015 by Tyndale House Foundation. Used by permission of Tyndale House Publishers, Inc., Carol Stream, Illinois 60188. All rights reserved.

Source link