What Jesus Did! – 'What Are You Showing?' – Luke 7:44-47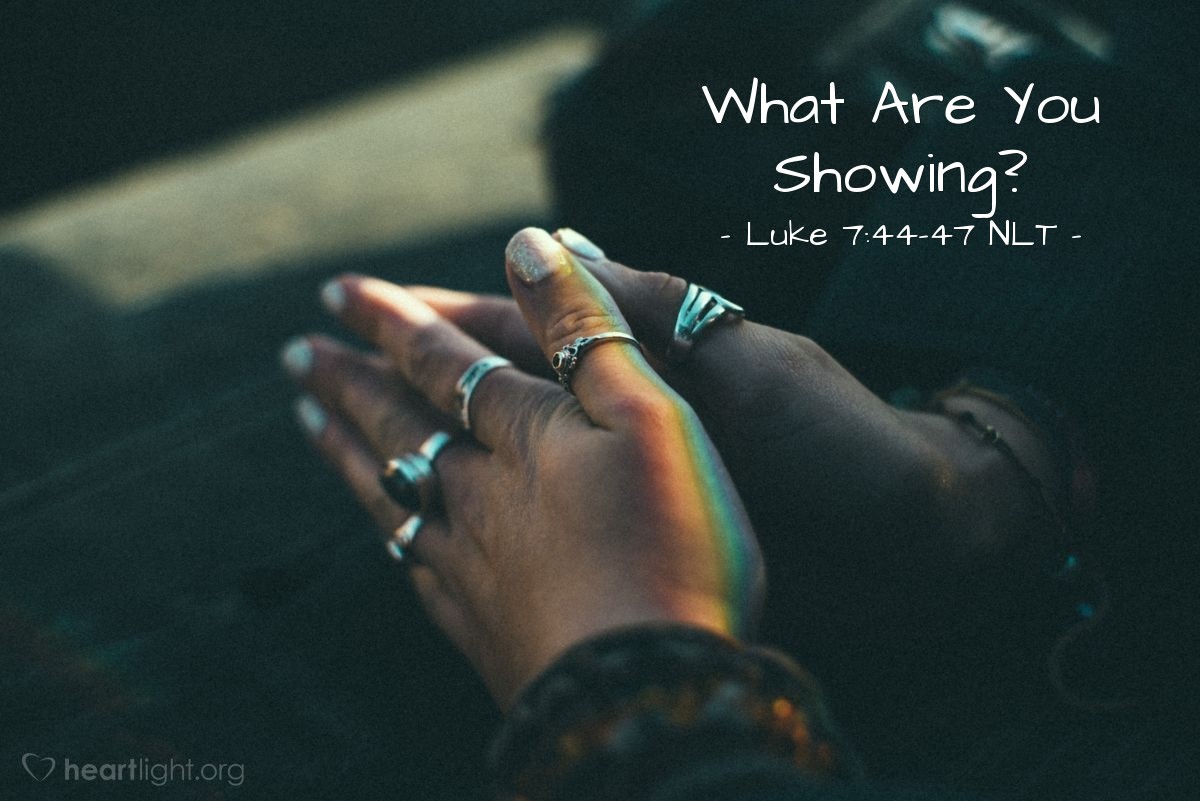 Then [Jesus] turned to the woman and said to Simon, "Look at this woman kneeling here. When I entered your home, you didn't offer me water to wash the dust from my feet, but she has washed them with her tears and wiped them with her hair. You didn't greet me with a kiss, but from the time I first came in, she has not stopped kissing my feet. You neglected the courtesy of olive oil to anoint my head, but she has anointed my feet with rare perfume.
"I tell you, her sins — and they are many — have been forgiven, so she has shown me much love. But a person who is forgiven little shows only little love."
Key Thought
What are you showing the Lord about your recognition of what he has done for you? Is it merely what is required or expected by religious convention? Is it less than that? Or is it extravagant and heartfelt? Jesus used this event in his ministry to teach us that our daily displays of thanksgiving and joy reveal our recognition of how much God has forgiven us!
Today's Prayer
Father, thank you! Thank you a million times over! May my words of praise, my gifts of thanksgiving, and my life of service be the beginning of thanks to you — thanks which I anticipate giving to you in a perfect way and in a perfect place when I stand before you face-to-face and share in the joy of my coming home. In Jesus' name, and by his gift of grace, I pray. Amen.
Related Scripture Readings
---
Ⓒ 1996-2023 Heartlight, Inc. This material may not be reproduced in part or whole for commercial use without written consent. What Jesus Did! is written by Phil Ware and is available in book form. Scripture quotations are taken from the Holy Bible, New Living Translation, copyright ©1996, 2004, 2007, 2013, 2015 by Tyndale House Foundation. Used by permission of Tyndale House Publishers, Inc., Carol Stream, Illinois 60188. All rights reserved.

Source link