What Jesus Did! – 'The Power to Make Better!' – Luke 4:40-41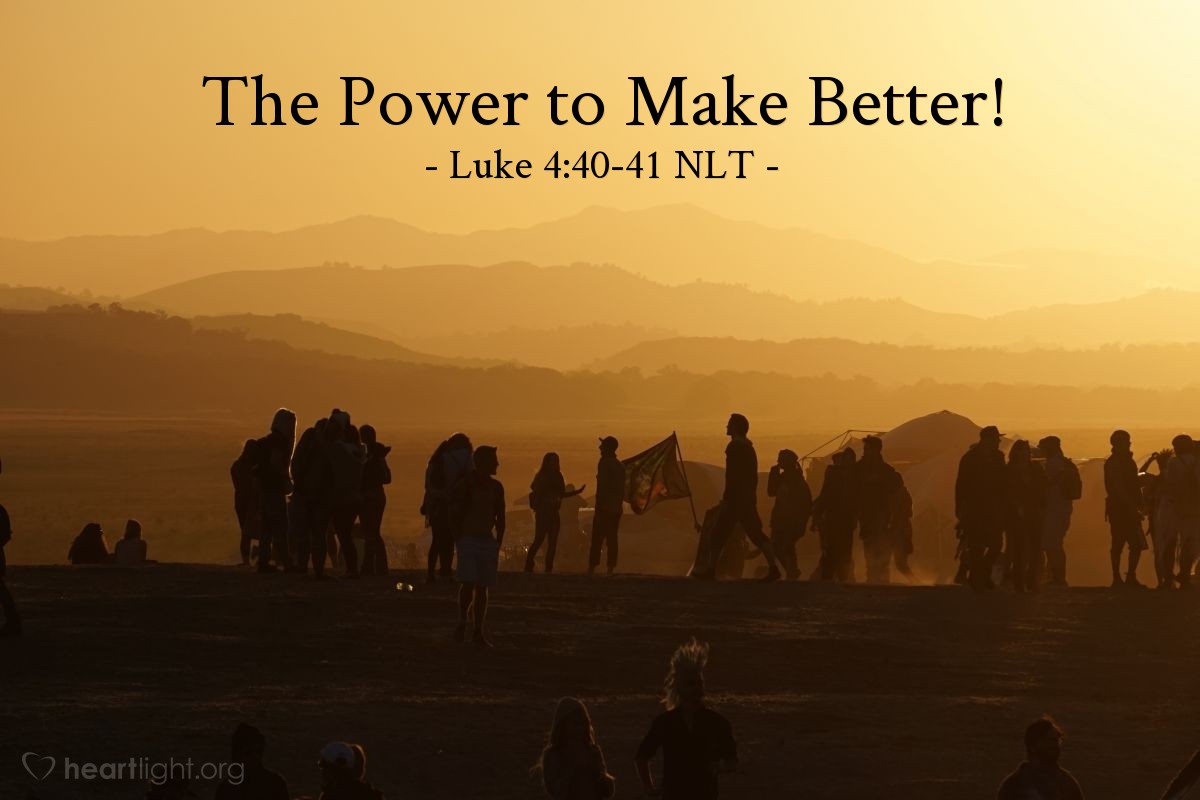 As the sun went down that evening [after Jesus healed Simon's mother-in-law], people throughout the village brought sick family members to Jesus. No matter what their diseases were, the touch of his hand healed every one. Many were possessed by demons; and the demons came out at his command, shouting, "You are the Son of God!" But because they knew he was the Messiah, he rebuked them and refused to let them speak.
Key Thought
If you've ever had a loved one who hurt, you know what a precious gift it is to be able to make things better and what a maddening frustration it is when you can't help at all. Jesus could make things better — not just a few things, but all things. Disease, demons, and even death were impotent to stop his power of making things better. His words, the touch of his hand, and the power of his presence brought healing, deliverance, and comfort. Even now, he longs for us to invite him into our lives and into our problems so he can make things better for us. While all our physical problems won't necessarily go away, they will dim in the light of his presence and his promise to bring us through them and bring us his ultimate blessing.
Today's Prayer
Dear Jesus, you are welcome in my life. I need your presence as I seek to deal with the hurt, anger, frustration, fears, difficulties, illnesses, and troubles that I face. Please know that I want you to be at work in my life doing your will and leading me in the direction you want me to go. Amen.
Related Scripture Readings
---
Ⓒ 1996-2023 Heartlight, Inc. This material may not be reproduced in part or whole for commercial use without written consent. What Jesus Did! is written by Phil Ware and is available in book form. Scripture quotations are taken from the Holy Bible, New Living Translation, copyright ©1996, 2004, 2007, 2013, 2015 by Tyndale House Foundation. Used by permission of Tyndale House Publishers, Inc., Carol Stream, Illinois 60188. All rights reserved.

Source link