What Jesus Did! – 'The Power of His Words' – Luke 8:22-24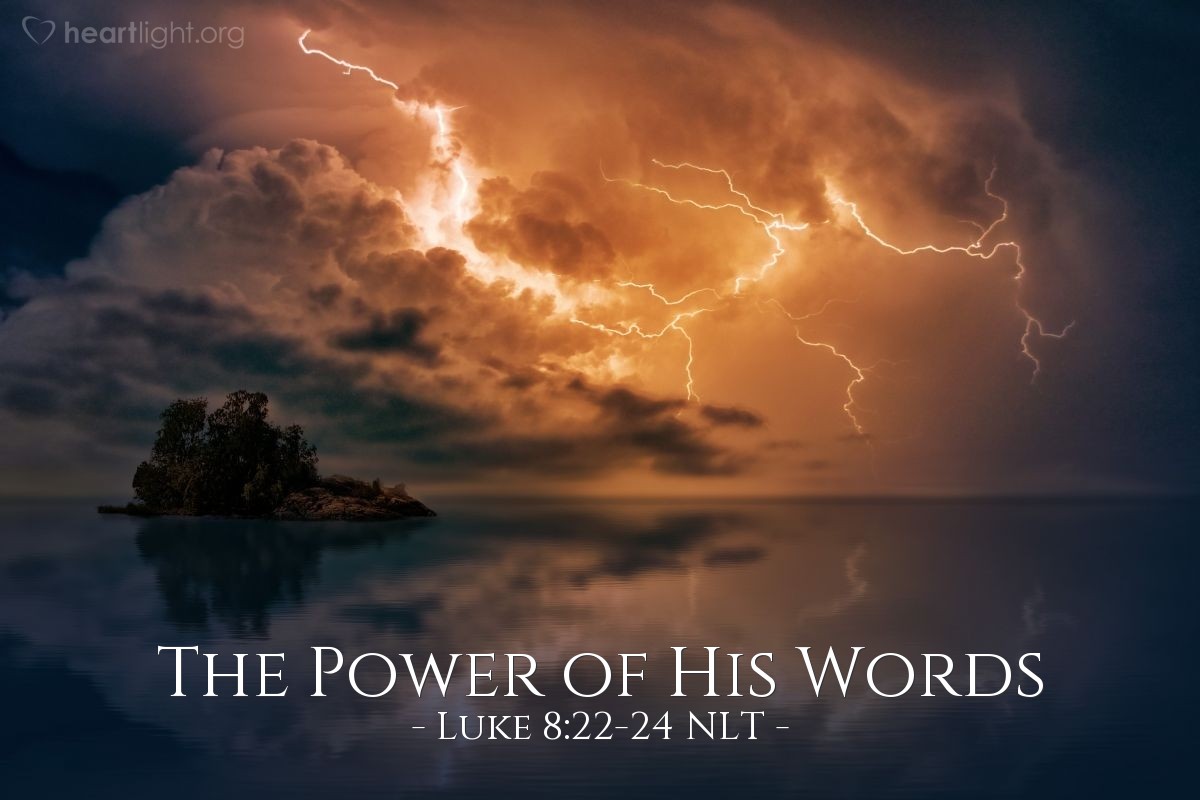 One day Jesus said to his disciples, "Let's cross to the other side of the lake." So they got into a boat and started out. As they sailed across, Jesus settled down for a nap. But soon a fierce storm came down on the lake. The boat was filling with water, and they were in real danger.
The disciples went and woke him up, shouting, "Master, Master, we're going to drown!"
When Jesus woke up, he rebuked the wind and the raging waves. Suddenly the storm stopped and all was calm.
Key Thought
Jesus has been demonstrating the power of his words and teaching about that power and how we must obey his words. [1] Now, in a potent demonstration of his authority, we see just how powerful the words are. Jesus spoke and even the weather obeyed him. He is ruler over nature. His words have power over the storm! Since Jesus' words are so powerful, shouldn't we obey his words, too?
[1] Luke 4:33-36, 39, 41, 5:12-13, 7:14-15, 8:18, 21.
Today's Prayer
Wow, Father! Your Son Jesus is awesome and glorious. His words have power over nature. He calmed the raging storm by simply speaking and it was so. My prayer is that his words will have that same impact on me. May the words Jesus spoke produce immediate results in my life. As I obey, I truly believe that those very words will calm the restlessness of my soul. In the mighty name of Jesus, I pray. Amen.
Related Scripture Readings
---
Ⓒ 1996-2023 Heartlight, Inc. This material may not be reproduced in part or whole for commercial use without written consent. What Jesus Did! is written by Phil Ware and is available in book form. Scripture quotations are taken from the Holy Bible, New Living Translation, copyright ©1996, 2004, 2007, 2013, 2015 by Tyndale House Foundation. Used by permission of Tyndale House Publishers, Inc., Carol Stream, Illinois 60188. All rights reserved.

Source link