What Jesus Did! – 'The Heavens Opened' – Luke 3:21-22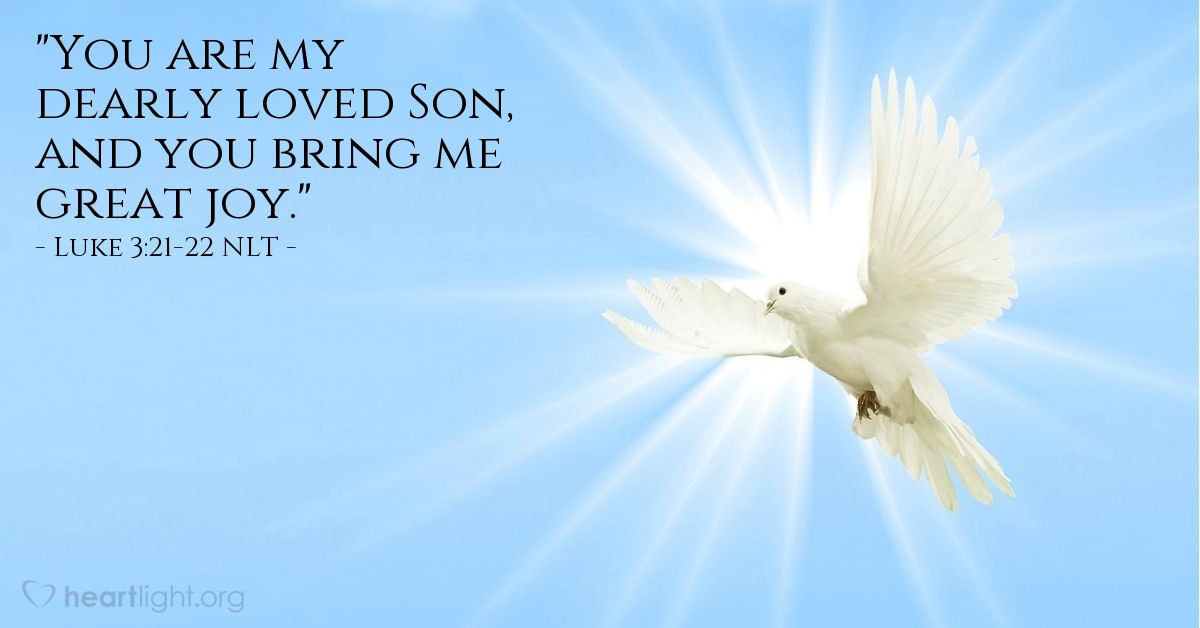 One day when the crowds were being baptized, Jesus himself was baptized. As he was praying, the heavens opened, and the Holy Spirit, in bodily form, descended on him like a dove. And a voice from heaven said, "You are my dearly loved Son, and you bring me great joy."
Key Thought
Luke used only a few words and yet conveys such deep meaning. Jesus came to John as part of the genuine movement of God among common people, and like many of them, Jesus chose to be baptized by John. This transition event in the history of salvation happened not only at a human level but also at a heavenly level. Part of what is happening at the heavenly level is prayer, which is such a powerful conduit inviting the work of the Holy Spirit. God's approval of Jesus, and his open affection for his Son are articulated clearly.
When we come to be baptized, we follow the example of Jesus. Like Jesus, we receive God's approval and affection resting upon us as well. "You are my dearly loved child," our Father tells each of us, "and you bring me great joy!" Isn't it incredible that God gave us the invitation to follow his Son and receive his blessing? Isn't it amazing that we get to do something that was important to our Savior? Isn't it extraordinary that the Holy Spirit also comes to us when we are baptized? [1] Isn't it truly a blessing to know how God feels about us when we turn our hearts toward him? Amazing!
[1] Acts 2:38.
Today's Prayer
Holy and righteous God, thank you for the gift of baptism. What a blessing it is to have the opportunity to share in this same experience that your Son and my Savior did so many years ago! Thank you that it is more than a mere human event, but one in which your Spirit moves and also one in which I can find my assurance of your approval and affection. Thank you in Jesus' name. Amen.
Related Scripture Readings
---
Ⓒ 1996-2023 Heartlight, Inc. This material may not be reproduced in part or whole for commercial use without written consent. What Jesus Did! is written by Phil Ware and is available in book form. Scripture quotations are taken from the Holy Bible, New Living Translation, copyright ©1996, 2004, 2007, 2013, 2015 by Tyndale House Foundation. Used by permission of Tyndale House Publishers, Inc., Carol Stream, Illinois 60188. All rights reserved.

Source link