What Jesus Did! – 'Open to Jesus' Teaching' – Luke 8:16-18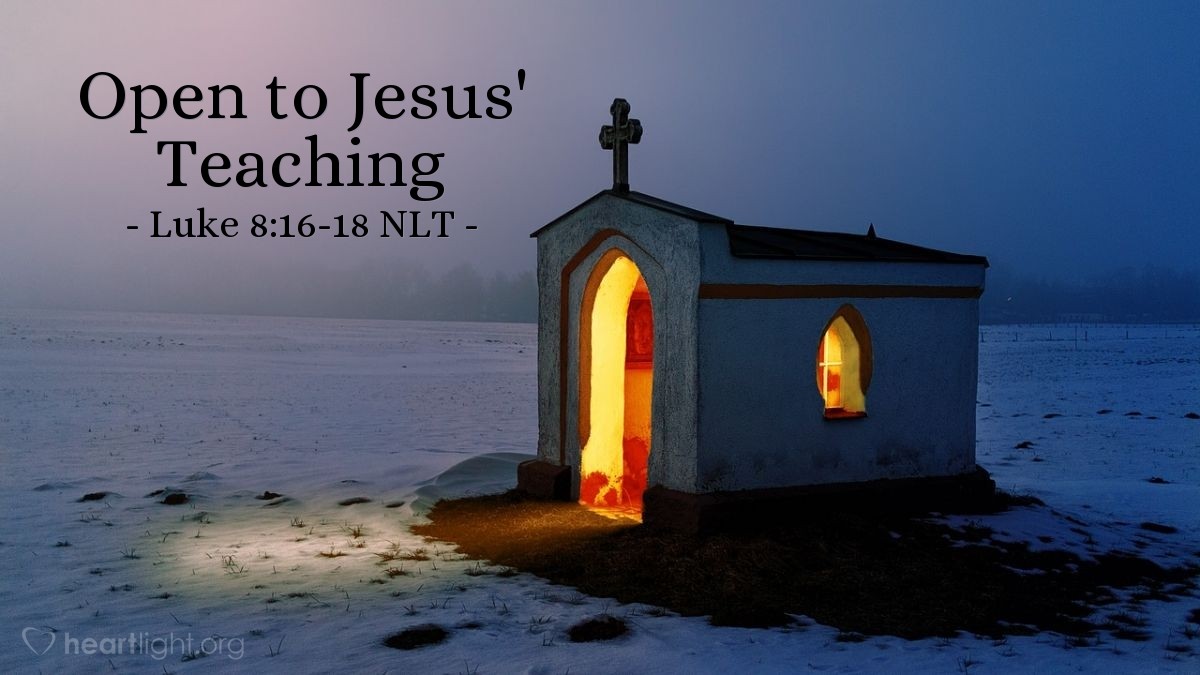 [After explaining the parable of the sower and the seed, Jesus continued,] "No one lights a lamp and then covers it with a bowl or hides it under a bed. A lamp is placed on a stand, where its light can be seen by all who enter the house. For all that is secret will eventually be brought into the open, and everything that is concealed will be brought to light and made known to all.
"So pay attention to how you hear. To those who listen to my teaching, more understanding will be given. But for those who are not listening, even what they think they understand will be taken away from them."
Key Thought
Are you open to what Jesus says? It isn't hidden. It is said to bring light to your darkness. The real issue is whether you and I are willing to pay attention to what he says and long to know and to live what we hear. We may not grasp all of what he says at first, but over time, as our hearts are open to him, more understanding comes. As the Holy Spirit works in our hearts, as our hearts yearn to know more of Jesus, and as we put into practice what we know, deeper insight and a more productive life follow! Let's open our hearts to Jesus' teaching and open our lives to be the place where his light is seen.
Today's Prayer
Father, I ask for your Spirit of knowledge so that I can know you better. I pray that out of your glorious riches, you open my heart to the deeper things of your truth. I recognize, dear Father, that my part in this dance of grace is to seek ever deeper knowledge and understanding of your will and to put into practice today, and each day, the truth that I know. So I offer my day, myself, and my future to you. I trust that as I am receptive and obedient to the words of Jesus, you will open my heart to know you, your Son, and your truth more fully. In Jesus' name, I pray. Amen.
Related Scripture Readings
---
Ⓒ 1996-2023 Heartlight, Inc. This material may not be reproduced in part or whole for commercial use without written consent. What Jesus Did! is written by Phil Ware and is available in book form. Scripture quotations are taken from the Holy Bible, New Living Translation, copyright ©1996, 2004, 2007, 2013, 2015 by Tyndale House Foundation. Used by permission of Tyndale House Publishers, Inc., Carol Stream, Illinois 60188. All rights reserved.

Source link