What Jesus Did! – 'God's Will Must Be Done' – Luke 8:40-42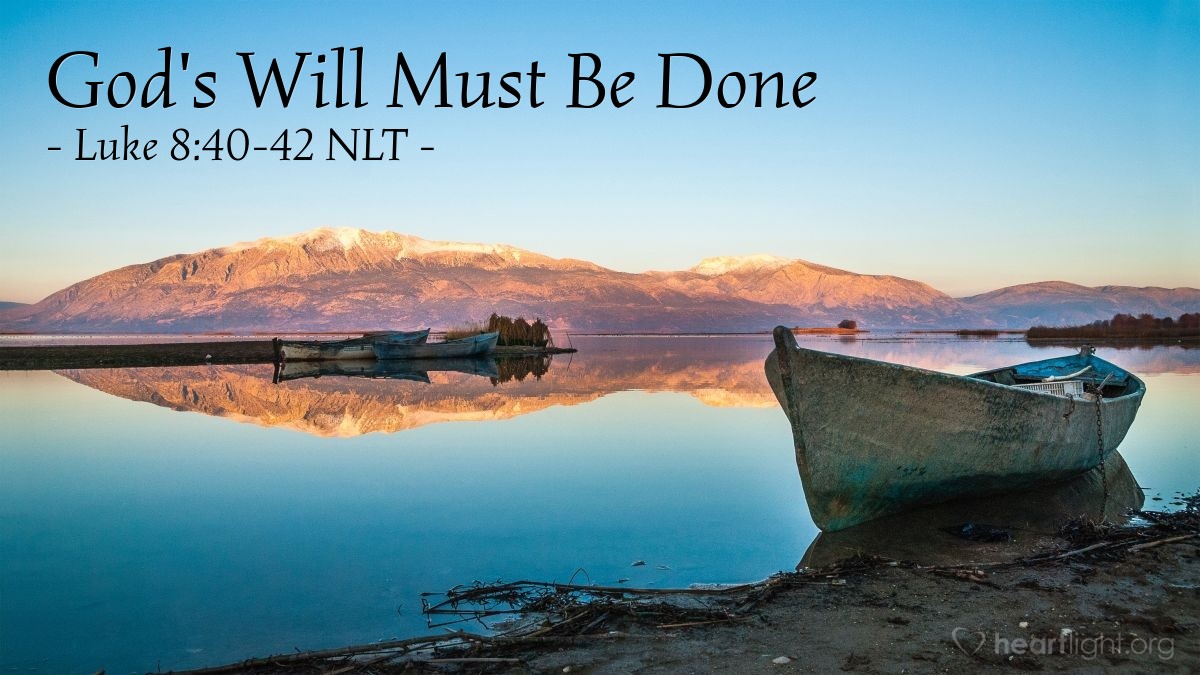 On the other side of the lake the crowds welcomed Jesus, because they had been waiting for him. Then a man named Jairus, a leader of the local synagogue, came and fell at Jesus' feet, pleading with him to come home with him. His only daughter, who was about twelve years old, was dying.
As Jesus went with him, he was surrounded by the crowds.
Key Thought
Jesus was on the east side of the Sea of Galilee when he cast the demons out of the man, and they went into the pigs. The folks there were afraid of Jesus and asked him to leave, [1] but other people were waiting for him on the west (Galilee) side. These crowds longed to be with Jesus because they expected him to work miracles for them. One man, an important man in the community, was particularly anxious for Jesus' return. His only daughter was very ill, and he wanted Jesus to come and heal her. However, Jesus was mobbed by the crowds. On the east side of the Sea of Galilee, Jesus had faced demonic opposition and misunderstanding that led to rejection. On the Galilee side, he faced the problems of popularity and acceptance that were based on a different kind of misunderstanding, thinking of him as just a miracle worker. In many ways, these stories are opposites. Even the final commands in the two stories are opposite. [2] These stories represent the wide-ranging styles of attack that Satan uses to try to ruin the work of God. Jesus, however, ensured that God's work was done no matter the circumstance.
[1] Luke 8:37.
[2] Luke 8:39, 56.
Today's Prayer
Give me faith, O God, that you will work in all of my life's situations for your glory and my good. I believe you can help me overcome any obstacle, problem, or temptation that Satan throws my way. Please show your victory in my life. I pray this in Jesus' name. Amen.
Related Scripture Readings
---
Ⓒ 1996-2023 Heartlight, Inc. This material may not be reproduced in part or whole for commercial use without written consent. What Jesus Did! is written by Phil Ware and is available in book form. Scripture quotations are taken from the Holy Bible, New Living Translation, copyright ©1996, 2004, 2007, 2013, 2015 by Tyndale House Foundation. Used by permission of Tyndale House Publishers, Inc., Carol Stream, Illinois 60188. All rights reserved.

Source link