What Jesus Did! – 'Connected Grace!' – Luke 1:39-45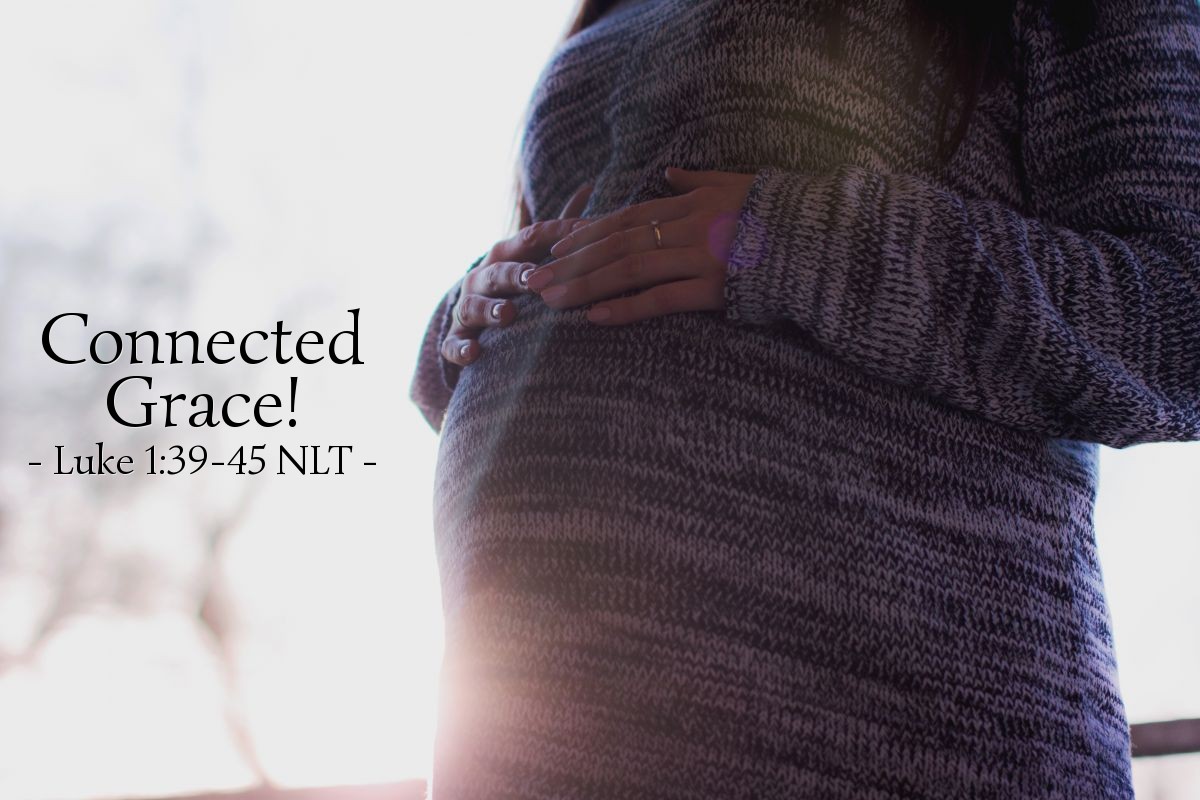 A few days later Mary hurried to the hill country of Judea, to the town where Zechariah lived. She entered the house and greeted Elizabeth. At the sound of Mary's greeting, Elizabeth's child leaped within her, and Elizabeth was filled with the Holy Spirit.
Elizabeth gave a glad cry and exclaimed to Mary, "God has blessed you above all women, and your child is blessed. Why am I so honored, that the mother of my Lord should visit me? When I heard your greeting, the baby in my womb jumped for joy. You are blessed because you believed that the Lord would do what he said."
Key Thought
What a glorious way God connected two different promises delivered by the angel Gabriel about two precious women. He promised Zechariah that his and Elizabeth's son would be filled by the Spirit from the womb, [1] and sure enough, her son stirred at the voice of Mary and the presence of the newly conceived Messiah. He also promised Mary that Elizabeth was pregnant and that this pregnancy was the confirmation of God's miracle. [2] Mary's faith was strengthened and both women were blessed. While we may never have experienced an encounter with the angel Gabriel, we have received a host of promises from God which can be accepted only by faith. However, our faith remains small and often unblessed until we begin to act on that faith. That active faith then opens the door for God's blessing and confirmation. So what promise from Scripture has God laid on your heart recently that you are not acting on because of your doubt? Why not prayerfully re-examine that promise and then act obediently in response to God's word?
[1] Luke 1:13, 15.
[2] Luke 1:36-37.
Today's Prayer
O glorious God and Father, "I believe; help my unbelief!"* Forgive me for letting my doubt and my circumstances interfere with my obedience. Give me the courage to obey your commands and to respond to your promises in faith. In Jesus' name, I pray. Amen.
* Mark 9:24 NRSV.
Related Scripture Readings
---
Ⓒ 1996-2023 Heartlight, Inc. This material may not be reproduced in part or whole for commercial use without written consent. What Jesus Did! is written by Phil Ware and is available in book form. Scripture quotations are taken from the Holy Bible, New Living Translation, copyright ©1996, 2004, 2007, 2013, 2015 by Tyndale House Foundation. Used by permission of Tyndale House Publishers, Inc., Carol Stream, Illinois 60188. All rights reserved.

Source link