What Jesus Did! – 'Condemned for Righteousness' – Luke 6:11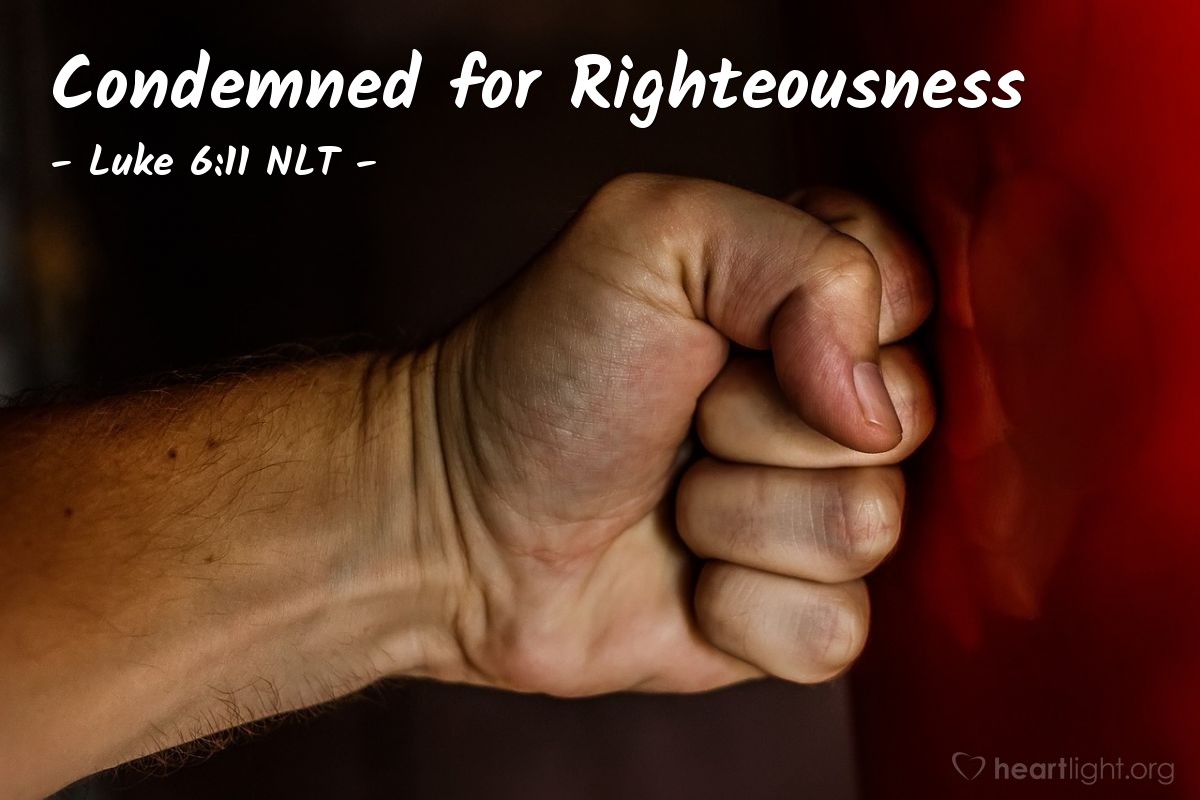 [When Jesus healed the man with the deformed hand on the Sabbath], the enemies of Jesus were wild with rage and began to discuss what to do with him.
Key Thought
Doing right doesn't mean we will always be treated right. Most of us know this truth from our own experience. We certainly see this principle proved true repeatedly in the life of Jesus and then in his death. Some people become angry and hostile when others do what is righteous and good. John the Baptist paid with his life because of a powerful person's negative reaction to his teaching about a godly life. [1] And Jesus paid with his life because of his living out God's mission. Some of us may have to do the same. Does that mean God has abandoned us or not heard our prayers? Absolutely not! Remember the passage that says that God works all things together for our good? [2] Did you ever notice the consequence? We're to become like Christ! If our hero was crucified for doing the right things, don't you think some of us will be mistreated as well? But in the end, in our everlasting life, we'll experience the joy of a proud and loving Father who will say "Well done! You lived just like my Son!"
[1] Matthew 14:3-10.
[2] Romans 8:28-30.
Today's Prayer
Father, give courage to all of your servants worldwide who are facing hardship, difficulty, and possibly even death for their faith. In Jesus' name, I pray. Amen.
Related Scripture Readings
---
Ⓒ 1996-2023 Heartlight, Inc. This material may not be reproduced in part or whole for commercial use without written consent. What Jesus Did! is written by Phil Ware and is available in book form. Scripture quotations are taken from the Holy Bible, New Living Translation, copyright ©1996, 2004, 2007, 2013, 2015 by Tyndale House Foundation. Used by permission of Tyndale House Publishers, Inc., Carol Stream, Illinois 60188. All rights reserved.

Source link