What Jesus Did! – 'Blind to Our Faults' – Luke 6:41-42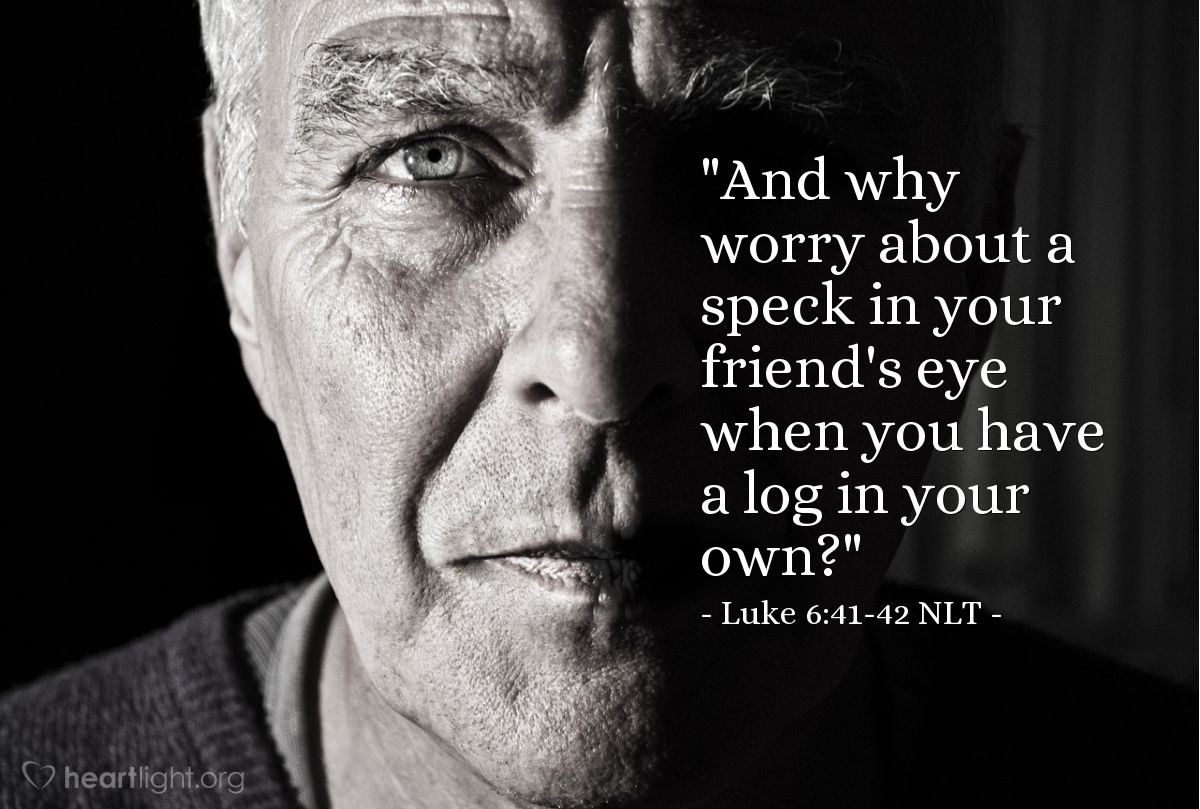 [Jesus returned to his teaching on our interactions with others:] "And why worry about a speck in your friend's eye when you have a log in your own? How can you think of saying, 'Friend, let me help you get rid of that speck in your eye,' when you can't see past the log in your own eye? Hypocrite! First get rid of the log in your own eye; then you will see well enough to deal with the speck in your friend's eye."
Key Thought
The problem with sin and the lack of forgiving spirits, coupled with our inconsistency, questionable motives, and unjustly unkind criticism is not someone else's problem. We must look inwardly at ourselves. We must look critically at ourselves. We must look correctively at ourselves. God holds us responsible for our actions and motives. [1] Jesus wants us to see that our first job is to deal with our own problems, sins, weaknesses, mistakes, inconsistencies, wrong motives, etc. Only after I've begun to address these problems in my own life can I begin to help others address the sin in their lives — and even then, I must approach them with humility, love, and grace, knowing that I'm a sinner saved by grace.
[1] Romans 14:12; 2 Corinthians 5:10.
Today's Prayer
O God, my heavenly Father, please forgive me for my sins. I know that I fall short of what you want me to be and what I want to be. Please help me never to use someone else's weaknesses or stumbling as an excuse for my shortcomings. In addition, Father, please open my eyes so that I never avoid my own shortcomings by pointing to the deficiencies of another. In Jesus' name, I pray. Amen.
Related Scripture Readings
---
Ⓒ 1996-2023 Heartlight, Inc. This material may not be reproduced in part or whole for commercial use without written consent. What Jesus Did! is written by Phil Ware and is available in book form. Scripture quotations are taken from the Holy Bible, New Living Translation, copyright ©1996, 2004, 2007, 2013, 2015 by Tyndale House Foundation. Used by permission of Tyndale House Publishers, Inc., Carol Stream, Illinois 60188. All rights reserved.

Source link