What Jesus Did! – 'Affirming Her Faith to Give Her Peace' – Luke 8:44-48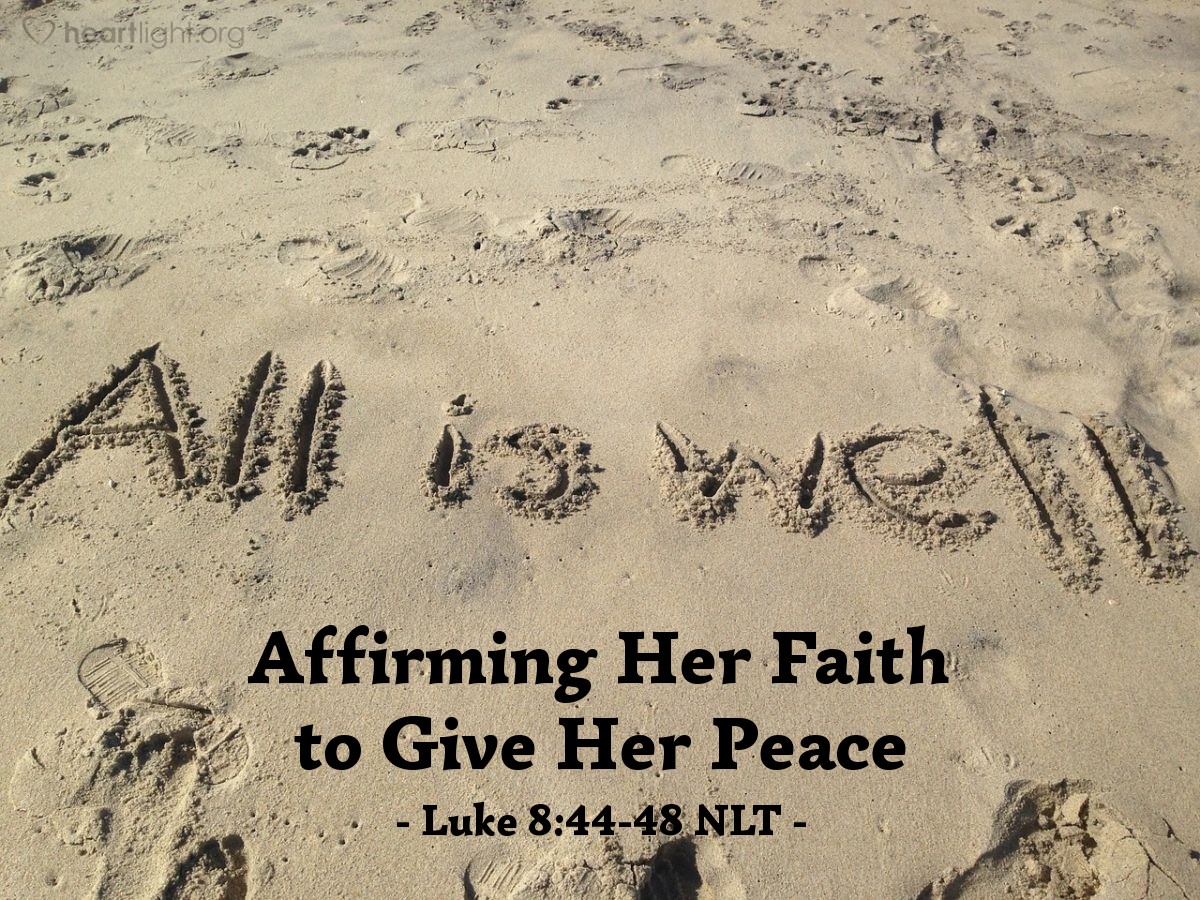 Coming up behind Jesus, [the woman who had constant bleeding for twelve years] touched the fringe of his robe. Immediately, the bleeding stopped.
"Who touched me?" Jesus asked.
Everyone denied it, and Peter said, "Master, this whole crowd is pressing up against you."
But Jesus said, "Someone deliberately touched me, for I felt healing power go out from me." When the woman realized that she could not stay hidden, she began to tremble and fell to her knees in front of him. The whole crowd heard her explain why she had touched him and that she had been immediately healed. "Daughter," he said to her, "your faith has made you well. Go in peace."
Key Thought
This woman came for healing. She received much more than that. Jesus refused to allow the woman to receive an anonymous miracle. Instead, he had her come forward and then praised her faith and dismissed her to live in peace. In her fear, she ventured out in faith and received a double blessing. She was not only healed; she was also praised!
Today's Prayer
O LORD God, my Abba Father, may my faith be as bold and as unrelenting as this woman's faith. Stir me to courage and action. In Jesus' name, I pray. Amen.
Related Scripture Readings
---
Ⓒ 1996-2023 Heartlight, Inc. This material may not be reproduced in part or whole for commercial use without written consent. What Jesus Did! is written by Phil Ware and is available in book form. Scripture quotations are taken from the Holy Bible, New Living Translation, copyright ©1996, 2004, 2007, 2013, 2015 by Tyndale House Foundation. Used by permission of Tyndale House Publishers, Inc., Carol Stream, Illinois 60188. All rights reserved.

Source link