What Jesus Did! – 'A Love for the City!' – Luke 7:1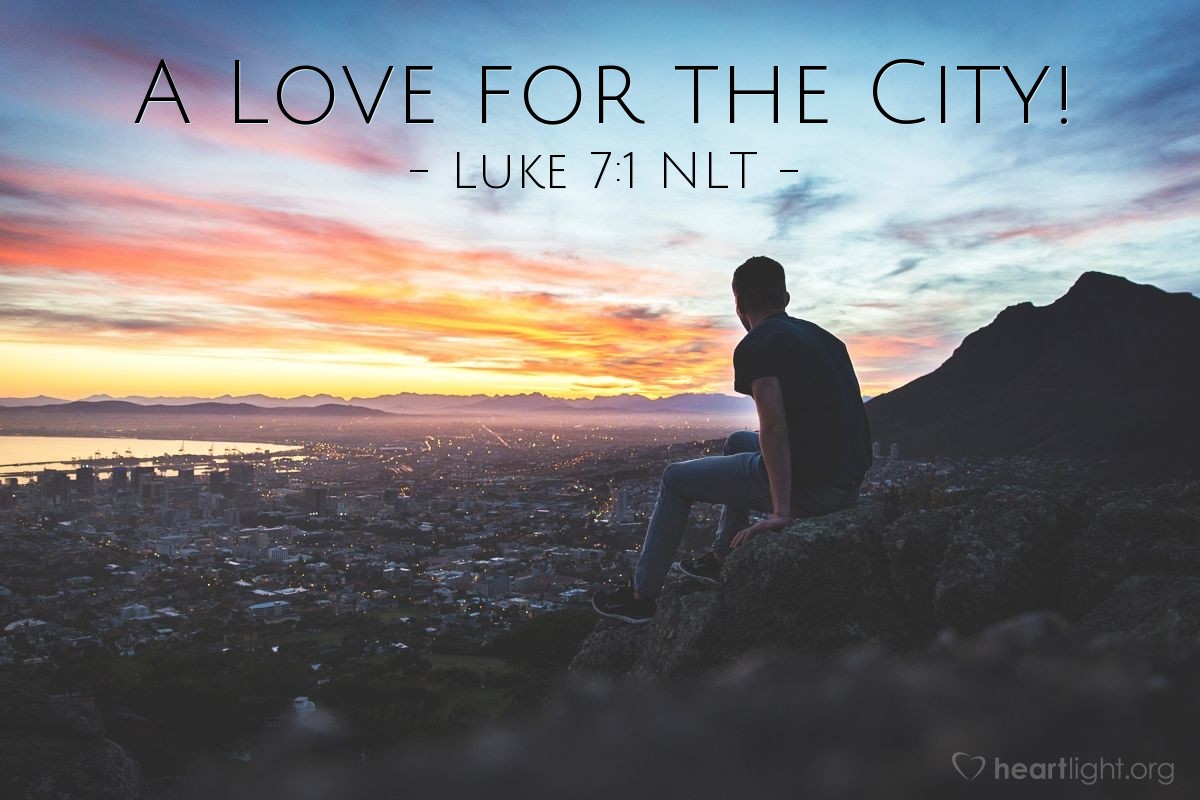 When Jesus had finished saying all this to the people, he returned to Capernaum.
Key Thought
I've lived in the country. I've lived in the city. I've lived in the suburbs. Each has its own rhythm. Each has its own advantages. Each has its own drawbacks. A good bit of Jesus' ministry occurred on the mountainsides or along the Sea of Galilee, but he felt a call to the city. That's where the need was greatest because that's where there was the greatest concentration of people. So, after his time of ministry in teaching in the countryside, he went back to the city to share himself with the city-dwellers who needed God's Good News of hope and salvation. In Luke's gospel, he tells us the story of Jesus' earthly ministry. Then, in the book of Acts, he tells us the story of Jesus' heavenly ministry through the Spirit in the early church. In both cases, Luke reminds us of Jesus' love for the cities and his desire to save the masses. Everyone needs to know Jesus, so no matter where we find ourselves living, I can't help but believe that the Master will place the lost of the cities on our hearts. He calls those of us in cities to share hope, joy, and salvation with those who do not yet know him, and he calls all of us to include full support of efforts to reach city-dwellers with his Good News.
Today's Prayer
O LORD, God of the nations and lover of all people, please move me to be more selfless as I look at where I invest my time, my energies, and my resources. Open my heart to the needs of people everywhere. Especially open my eyes to the strategic opportunity to reach those in the cities, including the great cities of the world. Teach me how to be more effective in reaching the lost who do not know Jesus so that they can experience your grace, hope, and salvation. In Jesus' name, I pray. Amen.
Related Scripture Readings
---
Ⓒ 1996-2023 Heartlight, Inc. This material may not be reproduced in part or whole for commercial use without written consent. What Jesus Did! is written by Phil Ware and is available in book form. Scripture quotations are taken from the Holy Bible, New Living Translation, copyright ©1996, 2004, 2007, 2013, 2015 by Tyndale House Foundation. Used by permission of Tyndale House Publishers, Inc., Carol Stream, Illinois 60188. All rights reserved.

Source link